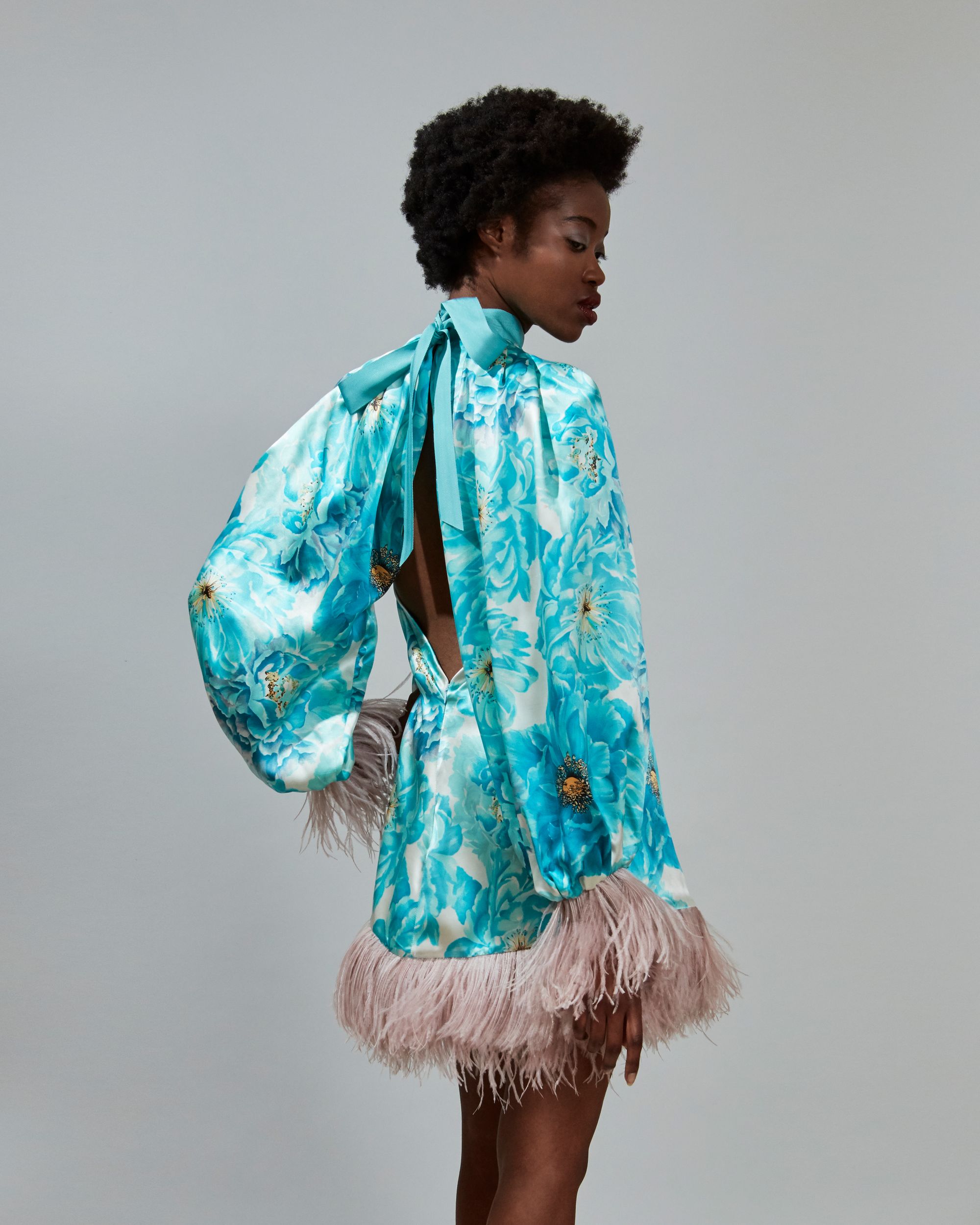 "In difficult times, fashion is always outrageous." —Elsa Schiaparelli
Reader, the more depressing the news, the more I want to cocoon in my vintage la Perla satin pjs and admire Cary Grant or Charles Boyer in Hollywood's golden age -  or play with my new favourite slow fashion word and share it with you! Glamcycled! Isn't it fun and just the ticket on a wild and grey December Monday?
It is time to wallow in glamour, silk, satin, lace, red lips and feathers reimagined.
Put simply,  glamcycling, is the art of taking something old, dated or discarded and fashioning it into something new, that is more spectacular than the original, using vintage, preloved and sustainable, natural fibres.
When life gets tough its time to boldly dress up not down and slow fashion alchemist Alexa Papavasileiou, founder  of the newly minted  Design Blender Atelier, is here to act as a marvellous pied piper and inspire a new movement of dressing for pleasure and to explore the infinite possibilities  of ethical fashion maximalism.
Fashion reached extraordinary heights of glamour during WW2 with women flaunting crimson lips, drawn on stockings and wasp-waisted homemade suits made out of old curtains. It's amazing what a dress, suit  or good coat can do for a girl's confidence and courage. Now is the right time to adopt the same degree of fashion chutzpah.
What we all need is  a dash  of fashion reinvention and make do and glamcycle!
I'm in thrall to designer Alexa and her fertile, magpie imagination. Alexa has worked for  Chloe,  Erdem, Giambattista Valli and  Lanvin  - all fashion houses where garments are created with extraordinary detail and as a reverential piece of wearable art.
When her work as a freelance designer vanished during the pandemic she had to think fast. Alexa pivoted and started making opulent, sensuous, one of a kind fashion pieces from vintage treasures and assorted lace, bows, ribbons and pretty scarves and the result is a joy to behold.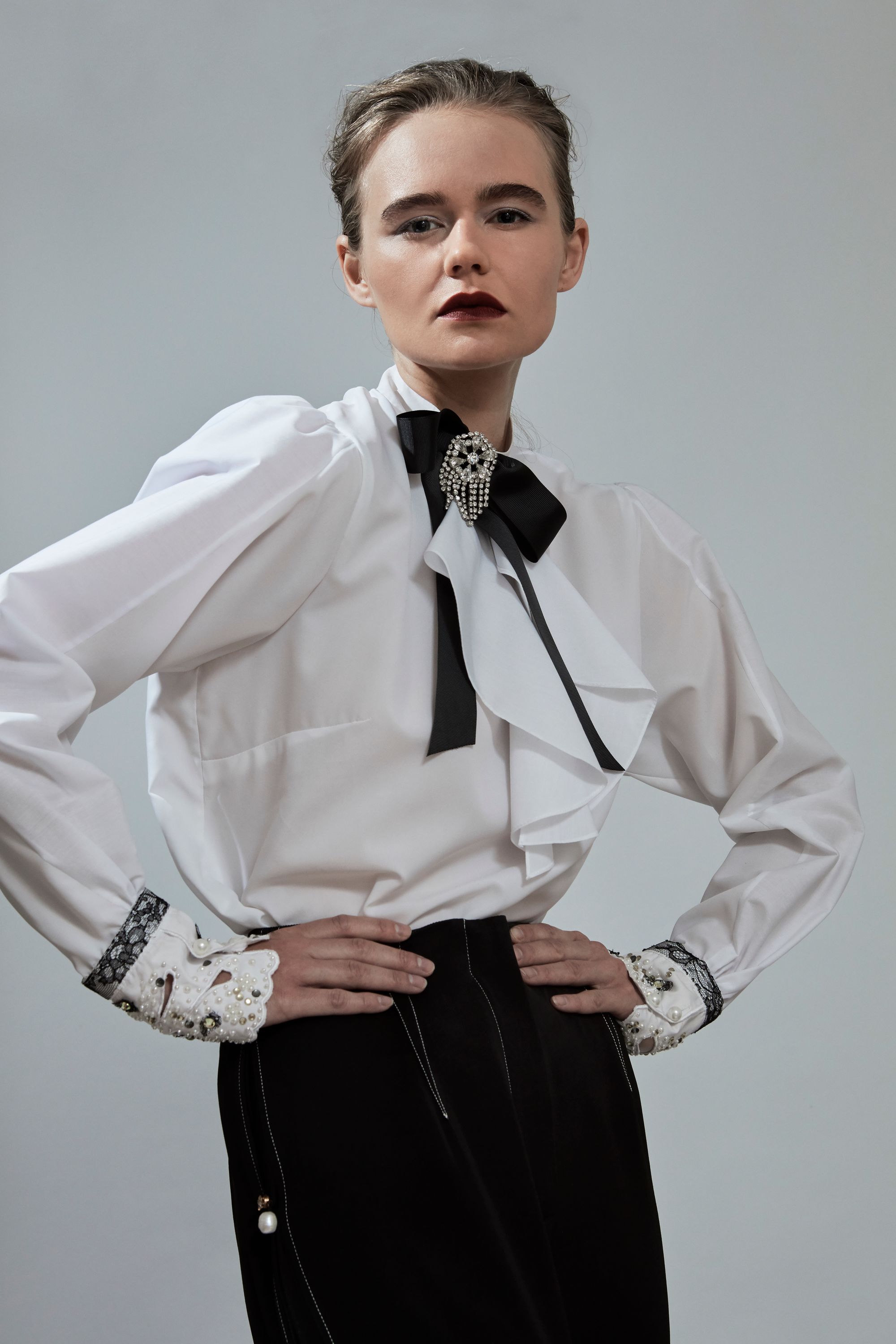 Just admiring a perfectly plain shirt transformed into an embellished, monochrome demi couture masterpiece lifts my spirits as I sit and write this slow ethical  fashion editorial in my local arts hub, listening to Field Music and The Phoenix Foundation and hoping that the arts centre won't be shut after Christmas, as it is a lifeline for our community during the pandemic.
How much dear reader do we all really need a dash of slow fashion glamour and escapism right now? To dream of gatherings, weekends away and carefree events, dressed in silk, satin and pretty fripperies. Ah, we hardly need  an excuse to put on our finest fashion glad rags for a festive season quite unlike any other? Even if it is only to get dressed for a one pot organic supper, go for a walk or cocoon at home watching the BBC's marvellous RKO classic film season? Or Saiorse Ronan and Margot Robbie as rivals and fierce warrior women in Mary Queen of Scots.
So my heart missed a beat when the concept of glamcycled fashion popped up on Instagram with this riotously feminine, silk mini dress, the colour of a Greek island sky ingeniously up-cycled from a pair of seventies harem trousers! How clever, surprising and uplifting.
Alexa explains the thinking behind her reinvented fashion as wearable art pieces: "I always appreciated the idea of upcycling but found it was expressed in a way that does not address the modern woman -it tends to be too conceptual or too expensive and that makes it lose its appeal for a wider audience.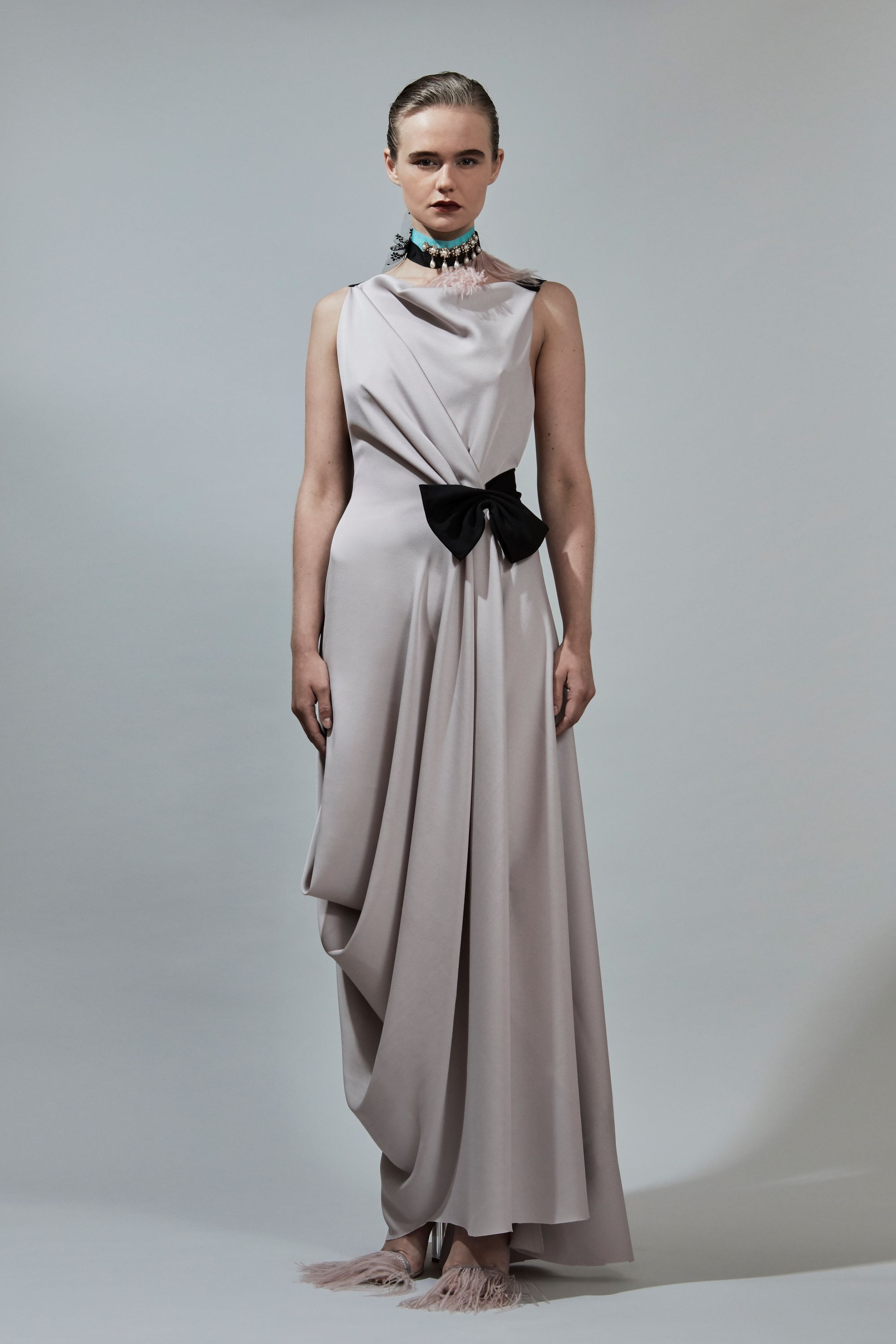 You couldn't say that about Alexa's feather mini dress.  It is a sublimely wearable dress that will make its new owner feel like a goddess. Revel in the details from the giant bow and sensual open back to the puff sleeves and tactile feeling of sustainable feathers and upcycled silk caressing skin.
Alexa thinks that upcycling will become a key trend in fashion, especially in the responsible luxury arena. "As of the pandemic it is an ongoing trend that we will see more of in the coming months. Bigger luxury brands like MiuMiu, Burberry, MarineSerre and many others are already on board. It is exciting to pave this 'regenerative' shopping lifestyle and help consumers understand that upcycling can be glamorous."
I agree and can't wait to see where this trend takes us.

This is what matters now in fashion. The power of reinvention. So you crave new? Well, you can have your conscious, thrifty fashion cake and eat it with cast-off fabulous clothes and vintage treasures upcycled with the couturier's art into wondrous new pieces that delight and surprise us and are destined to become a talking point and a way forward.
Live dangerously! Dress as if  you are spending the evening with Cary Grant or his 21st Century equivalent! Put on a little black dress for working at home, make a dinner date with yourself, your lover, en famille or your bubble companion and watch the original RKO film Love Affair and transport yourself to the pleasures of slow travel and high romance by ocean liner in grand, glamcycled style a la Irene Dunne and Charles Boyer - for as Edith Head, the great film costumier said, " You can have anything  in life, if  you dress for it."
Welcome to the new culture of glamorous, glamcycled, make do and reimagine style that is all about the individual, not  passing trends.
Instagram  @designblender.co
Watch the BBC  Classic Film Season including Love Affair