As in art, so in life.  So, Frida Kahlo is our inspiration for this month's icon of style. Frida was always the consummate artist, transforming her body into a living, painted canvas as an extension of her feminism, her political ideas, and her experience of chronic pain and disability following a tragic teenage accident.
As Frida tells us, she never 'painted dreams' only what she saw as Mexico's most celebrated artist. Drop everything to go and get to know the real Frida in the V&A's wonderfully intimate exhibition of her art and life – Frida Making Herself Up – and take a really good look at her painting of Mexico and the US border. Click here to book tickets.
Frida concealed her disability by adorning her body in vibrant traditional Mexican and Guatemalan coats, painting her lips red and wearing flowers in her hair. But what really lingers is that extraordinary red prosthetic boot – a testament to talent, style, the power of shopping and fearless spirit, no matter what.
First Lady Michelle
A modern day interpretation of Frida Kahlo's iconic headbands, this bold turban is part of a collaboration between British retailer ASOS and SOKO Kenya. Fully ethical and green, the brand has been seen on former first lady Michelle Obama and promotes community-driven, environmentally-aware trade in fashion. Go full Frida by adding flowers, real or make your own! Price £6.00, at ASOS. Frida Headband
Red Hot Lip
Few things say Frida like a good red lip. RMS Beauty's Wild with Desire lipstick pairs great colour with great sustainability. Crafted with high-quality organic and natural ingredients, bursting with antioxidants and in a completely recyclable packaging, this lipstick has got it all. Price £30.00, at SpaceNK. Red Lipstick
Self Portrait
Handcrafted in India, this gorgeous fair-trade cushion cover is inspired by Frida Kahlo's iconic self-portrait The Wounded Deer. Bold, paintbox colours contrast with skilled embroidery, making this a work of art that will brighten up any room. Price £29.95, at Natural Collection. Frida Cushion
Fashion as Art
Transform yourself into an extrovert, fearless, living work of art, just like Frida, in the designer to watch, Marianna Deri's, opulent, red hot, sensuous, pencil skirt, embellished with a print of Kahlo's portrait, bold flowers, and folk art symbolism. Sustainably made to last in Marianna's atelier, this look at me, star piece is made in 100% eco cotton, fully lined, with back split and grown on waistband. Price £157, at Wolf and Badger. Frida Pencil Skirt
Eco Chic Shades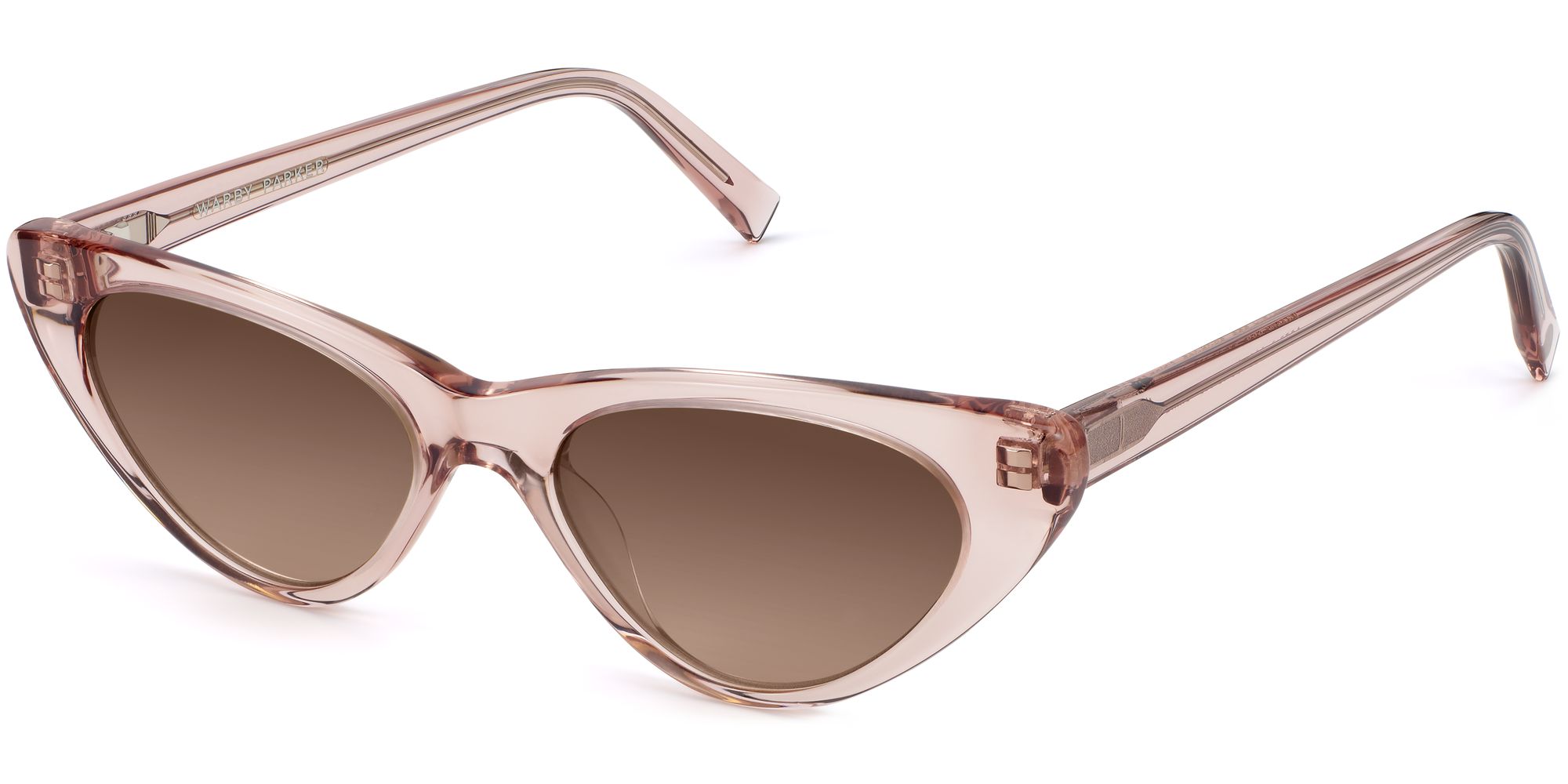 Channel your inner Frida with these Warby Parker sunglasses, inspired by a pair she owned, now exhibited at the V&A Museum. For every pair you buy, they donate one to someone in need. WP boasts to be one of the only carbon-neutral eyewear brands in the world, with original designs made in-house. We adore these, but they are only available to our US readers. Price $73.90, at Warby Parker. Cat Eye Sunglasses
Painted Lady
This intricate stainless steel mug is painted by hand in India and made with ethically sourced materials. Perfect for your favourite cup of tea or simply as a decorative piece to admire, this fair-trade item is sure to impress. Price £17.00, at ASOS. Frida Mug
Frida Doll
Sketch.inc's collaboration with design collective Lucie Kass has resulted in a modern take on traditional Japanese Kokeshi dolls, including this adorable Frida Kahlo edition. All designs are created by English artist Becky Kemp in her home office. Price £35.00, at Selfridges. Frida Doll
Life Story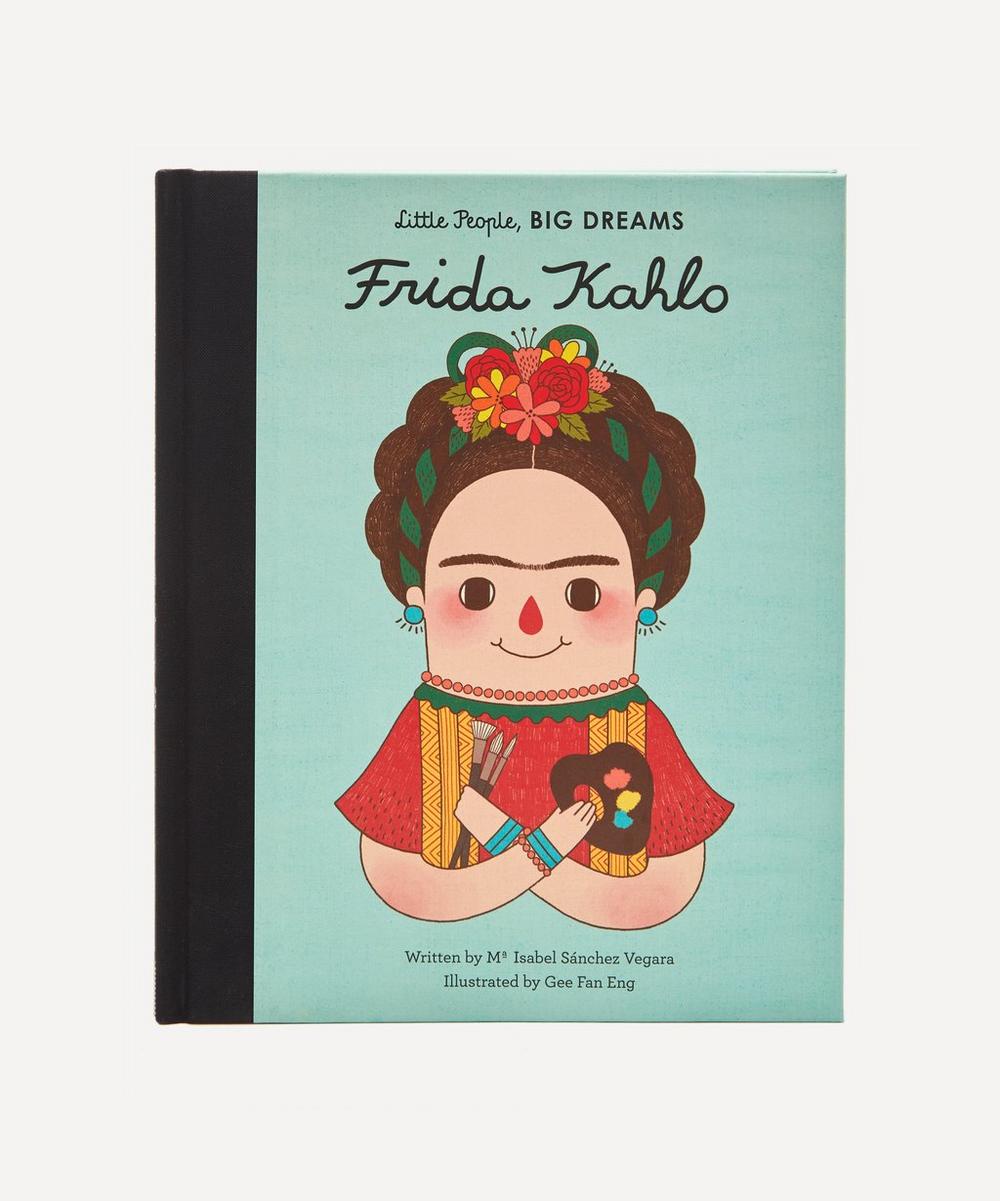 Perfect for kids, with beautiful illustrations, this book tells the story of Frida Kahlo's life. Following the tragic accident that changed her life, to becoming a world-renowned artist, it's the perfect gift to encourage kids everywhere to never give up on your dreams. Price  £9.99, at Liberty London. Frida Children's Book
Rebozo Mexicana
Woven in a home-based workshop in Mexico, rebozos can take up to ten days and ten different artisans to finish one piece, with minimal environmental impact. A staple in Frida's wardrobe, it can be worn in multiple ways. Try this exclusive design swathed around your arms for a Kahlo flourish.  Price £120.00, at the V&A Museum. Frida Rebozo
Wear Your Stripes
We are thoroughly bewitched by iconic designer Mary Katrantzou's Kahlo chevron striped evening dress – a homage to Frida, which captures the wild spirit, femininity and power of the artist with sensuous ruffles fluttering about the shoulders and sweeping to the floor in shimmering sweetie wrapper stripes of green, blue and grey. Made in Britain, this wonderfully feminine dress is a timeless, handcrafted fashion work of art to invest in, treasure, and wear when you want to feel invincible, and fill your world with colour and fashion artistry. Lined in black silk. Price £1,550, at Matches. Striped Dress
Handmade Necklace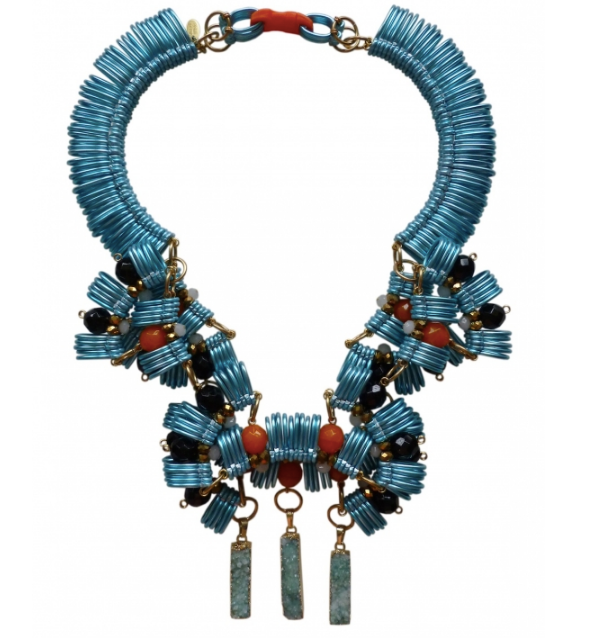 This statement necklace by British designer Kirsty Ward is handmade in her home studio in London. A real piece of art to be worn around your neck, this beautiful design is as original as they come, a sure hit for bold fashionable women. Price £175, at Young British Designers. Frida Necklace
Written by Alison Jane Reid with additional writing and research by Beatriz Liberatti.