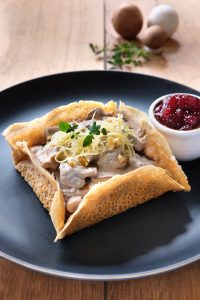 Festive Buckwheat Pancakes with Mushrooms and Thyme
Serves: 4
Preparation: 10 mins
Cooking: 25 mins
Can be vegan*
Gluten-free
Wheat-free
Ingredients
For the pancakes:
• 100g buckwheat flour*
• 300ml milk or soya milk
• 1 tbsp vegetable oil (and some extra for frying)
For the filling:
• 1 tbsp vegetable oil
• 300g mushrooms, sliced
• 2 cloves garlic, chopped
• 40g walnuts, chopped
• 100g vegetarian or vegan cream cheese
• 100ml single cream or soya cream
• 1 tsp Dijon mustard
• 1 tsp fresh thyme leaves, chopped
• Salt and pepper
To serve:
• 100g vegetarian Cheshire cheese or vegan cheese, crumbled or grated
• Mango chutney and/or cranberry sauce
• Small side salad (optional)
Method
To make the pancake batter, whisk the buckwheat flour, milk or soya milk*, paprika and vegetable oil together and set to one side. Preheat the oven on its lowest setting.
To prepare the filling, fry the mushrooms in the oil for 5 minutes, then add the remaining filling ingredients and cook for another 5 minutes. Season to taste and keep warm.
To make the pancakes, heat a little oil in a medium non-stick frying pan. Add a quarter of the batter and cook the pancake for around 2 minutes on each side, until set and lightly golden brown. Slide the pancake out of the pan and fold the edges in to create a square shape with the centre exposed. Place the pancake on a baking sheet, cover with foil or greaseproof paper, and keep warm in the oven. Repeat with the rest of the batter.
To serve, place each pancake on a warm plate. Unfold the edges, place a quarter of the filling in the centre, then refold. Sprinkle with the extra cheese* and add a dollop of mango chutney or cranberry sauce, and a side salad if you like.
*Gluten-free buckwheat flour is available in most supermarkets.
Energy: 587 kcals Protein: 20g Carbohydrate: 40g Of which sugars: 21g Fat: 37g Of which saturates: 13.5g Fibre: 7.5g Salt: 1.4g
Festive Flavours – the Vegetarian Society's Christmas recipe collection is available free of charge online at vegsoc.org/christmas or by calling 0161 925 2000.
Lynne Elliot, Chief Executive of the Vegetarian Society, said: "We have created a host of brand new recipes for you this year. To make sure everyone can join in and try something tasty, these recipes cater for both vegetarians and vegans. Some are gluten-free and there's also a delicious dessert that is vegan and raw. You're sure to find something you'll love."