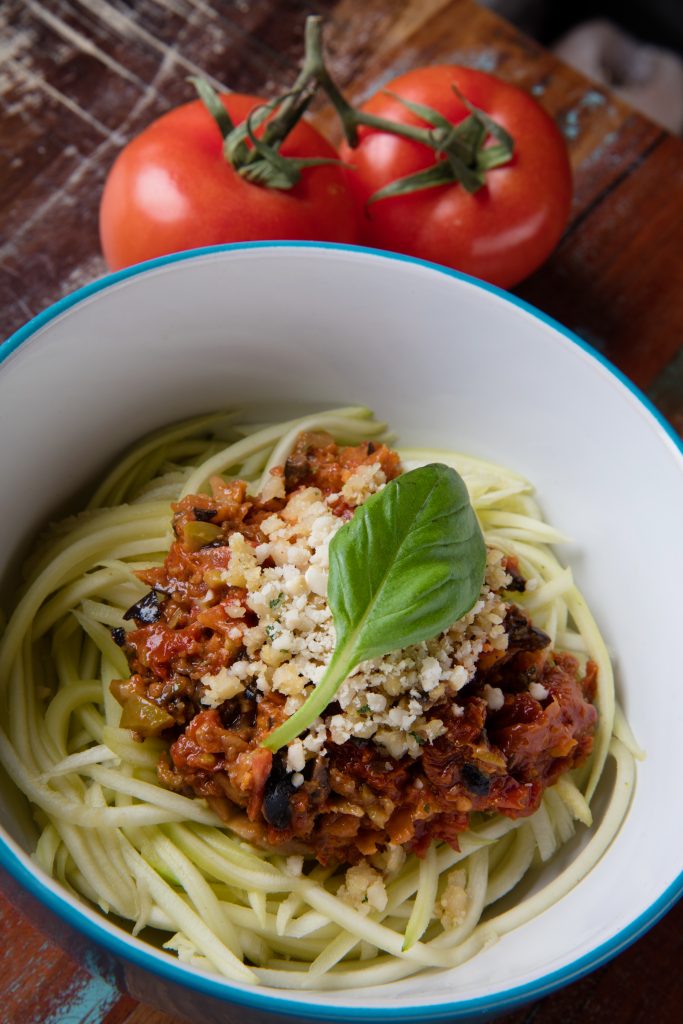 Get set to be fascinated, intrigued and enchanted by the thrifty and ingenious culinary ideas of Shane Jordan, the plant food chef and newly crowned ambassador for Love Hate Waste for the South West of England.  In the coming weeks,  Shane is going to be sharing some of his delicious raw food summer recipes with you, including this vibrant, intensely flavoured raw food Mediterranean spaghetti dish, with courgettes and, sun dried tomatoes and faux cheese nut sauce.  It's remarkable that all this dish requires is time and careful food preparation, which can be a joyful exercise!  Forget saucepans or electrical equipment. There is no need.  Just the thing for a beach picnic, glamping trip or al fresco summer supper.
Gourmet Recipes from Food Waste
Shane has been garnering plaudits and attention for his mouth watering, waste reducing recipes : including his aptly named eccentric Banana Skin Curry, Crispy Herb Potato Skins and Curried Pancakes using once Cinderella, leftover vegetables. Not on Shane's watch!
This talented disruptive, sustainable, raw food chef from Bristol, the eco conscious capital of Britain, is the author of the popular Food Waste Philosophy Cook Book, available on Amazon, and he is an ambassador for food waste as part of WRAP (Waste Resource Action Programme) and their campaign Love Food Hate Waste, which is a government-funded campaign to reduce food waste across the UK. Shane is also actively involved in government initiatives to reduce food waste with Bristol East MP and former Shadow Secretary of State for Environment, Food and Rural Affairs, Kerry McCarthy. Shane regularly volunteers with London-based charity FoodCycle in regions across the United Kingdom.
Banana skin Curry and Raw Chocolate Truffles
Shane's latest sustainable food project is all about creating delicious, nutritious,  raw food (meaning uncooked) from edible fruits and vegetables to resemble household name meals such as curries, sweet and sours, chocolate truffles and noodles without using electricity. He says, "I create meals without food processors, spiralizers, dehydrators, and juicers. It's one of the most effective ways to prepare healthy food, reduce energy, and save on buying expensive electrical equipment." Editor's comment – we can't wait to try out Shane's ideas over a relaxed summer weekend and see how we get on – we'll report back!
Ingredients
Cashew nuts
Engevita (optional)
Method:
Soak cashew nuts in water for 1hr until soft
Cut the cashew nuts with a knife and place them into the mortar and crush with your pestle, or use a food processor.
Crush the cashew nut until it resembles a crumble and add parsleys and chives.
For more of a 'cheesier' taste, add Engevita flakes (which are natural yeast flakes) to the crushed mixture and sprinkle over your spaghetti.
Peanut Cheese:
Peanuts
Engevita (optional)
Method:
Crack the peanuts with a rolling pin by placing the peanuts in a clear sealable bag or food processor.
Add parsley and chives and stir of use your food processor.
For more of a 'cheesier' taste, add Engevita flakes (which are natural yeast flakes) to the crushed mixture and sprinkle over your Mediterranean sauce.
To learn more about Shane Jordan, visit the website – Food Waste Philosophy
Edited by Alison Jane Reid. Food Photography by Jonny Green – Zzzone Photography, Bristol.
Readers – Please take not that when you click on our links and buy sustainable and organic books, products and experiences via us, your are championing our producers and supporting this magazine. We earn small amounts of commission when you make  purchases via our affiliate links – thank you.