Who can turn down a healthy and delectable brownie? Almond butter, cacao powder, dates and chia seeds might not be traditional brownie ingredients but they work amazingly well together to create ultra-fudgy chocolate treats that are bursting with beneficial fats and fiber. 3pm snack time sorted!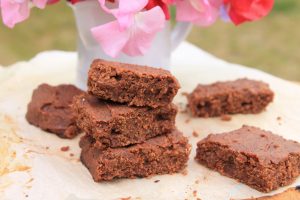 Recipe from www.aduna.com
Ingredients:
1 tbsp Aduna Baobab Powder
1/2 – 3/4 cup Aduna Super-Cacao Powder
1 cup almond butter
1 1/2 cups Medjool dates
1/4 cup chia seeds
1/3 cup coconut oil
3/4 cup water
1/2 cup plant-based milk (or organic dairy milk)
1 cup brown rice flour
1/2 cup maple syrup
1 tsp baking powder
Pinch of salt
Method:
Preheat the oven to 175C. In a mixing bowl, combine the chia seeds and the water and set aside to thicken for 15 minutes.
Add the melted coconut oil, Medjool dates, almond butter, non-dairy milk and maple syrup and blend all until smooth. Don't worry if it's not 100% smooth – a few little pieces of dates adds texture!
In a large bowl, combine the baking powder, brown rice flour, baobab, salt and cacao powder.
Pour the liquid mixture from the blender into the dry ingredients, along with the soaked chia seeds and mix well.
Pour the brownie batter into a lined pan (approx 2″ thick is ideal) and bake for approx. 35 minutes, or until you can insert a knife into it and it comes out clean.
Remove from the oven and leave to cool. Cut into squares and serve. Enjoy!
Aduna is an Africa-inspired health food brand and social business. Their mission is to bring consumers the natural vitality of Africa's ancient ingredients, while creating sustainable livelihoods for small-scale producers. Check out their website www.aduna.com to discover delicious and nutritious health foods made from Africa's most exceptional, natural ingredients.