Food Heroes:  Gourmet Raw Organic Olives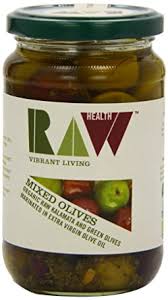 Not all olives are equal. Raw Health's hand-harvested, mixed green and kalamata organic olives from the Taygheto Mountains in Greece are a taste revelation. They taste very different to the olives bought in the supermarket. Even the so called gourmet varieties with price tags to match.  I purchased them on impulse in Planet Organic, out of sheer curiosity. Good olives, are a pleasure to experience, they are the food of long summer months of sunshine and the miracle of the olive tree.  These raw olives are preserved in olive oil, lemon and sea salt and have been allowed to fully ripen on the tree, turning an intense shade of purple. Firstly, they are intensely juicy, with a slight hint of citrus and tartness, but in no way are they bitter, in the way that cheap industrial olives are. In fact they are delightfully complex and pleasingly sophisticated in taste and beg to be eaten slowly. I urge you to eat them raw in salads, or as an appetiser and delight in each juicy, sunshine mouthful with a glass of equally good organic wine to complement the zesty fruitiness. It would almost be a culinary sin to heat them. They require little adulteration and this jar is generous in size, with a mixed selection, tree harvested and debittered in mineral water. Let me warn you, they are seriously yummy.
Health benefits of olives – olives contain high amounts of vitamin e, useful amounts of iron, minerals and rich in oleic acid, which may help reduce inflammation and reduce the risk of heart disease and some cancers.
Gourmet Tip – Add them to raw pizza, or cooked pizza for the last few minutes of cooking, so that these delicious olives retain their authentic flavour and don't dry out or burn.
Planet Organic –   Raw Mixed Olives
Dolphin Fitness –  Raw Mixed Olives