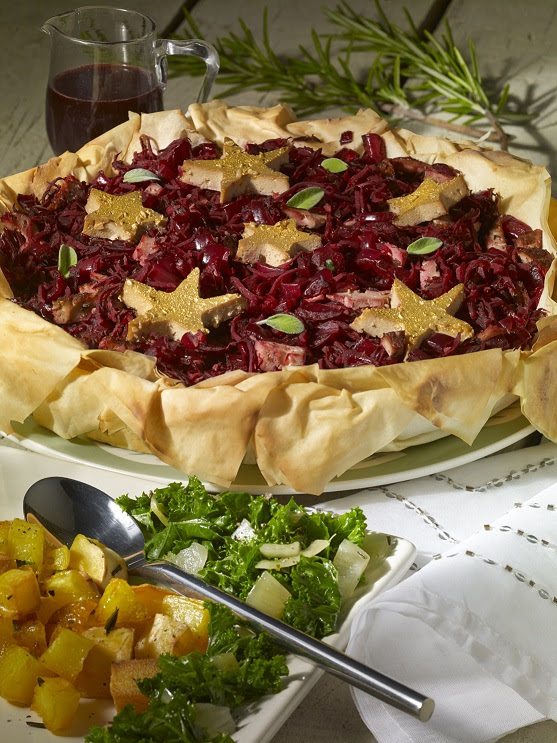 Do you have have vegan family or friends staying for Christmas? Or would you like to add more plant-based food to your festive celebrations? You could make this sumptuous, colourful, Smoky Beetroot Tart served with miniature roasties, sage & onion kale, blackberry sauce for a truly inventive vegan-friendly Christmas lunch.
Ingredients:
Serves 6-8
For the beetroot tart:
1 pack filo pastry
Rapeseed oil for brushing
4 large red onions
200g/7 oz fresh beetroot
3 tbsp balsamic vinegar
1 200g/7 oz pack smoked tofu
2 tsp dried thyme
For the mini roasties:
Mixture of parsnips and red-skinned potatoes – allow 150-200g/5-7 oz per person
Finely chopped rosemary leaves – allow 1 tsp per person
Rapeseed oil
Sea salt and black pepper
For the sage & onion kale:
250g/8 ½ oz kale or black kale
rapeseed oil for frying
2 large onions
4 tsp dried sage
Sea salt & black pepper
For the blackberry sauce:
150g/ 6 oz blackberries
¼ tsp balsamic vinegar
1 tsp maple syrup
1 tsp cinnamon
(This recipe makes a small amount of sauce to drizzle over the potatoes and parsnips. It's easy to multiply up the quantities of this to make more if you need it.)
Method:
For the beetroot tart:
Preheat the oven to 180C/350F/Gas Mark 4. Lay a sheet of the filo pastry onto a clean, dry chopping board or kitchen counter, brush it with oil and fold it in half to an approximate square (this depends upon the brand you are using).
Place in the bottom of a large, loose-based tart tin, allowing the pastry to overhang the edges of the tin slightly. Repeat twice so that the base and sides of the tin are covered. Prick the base and bake for 10 minutes.
Peel and grate the beetroot, or slice very thinly with a mandoline. Peel and finely chop the onions. Put the beetroot, onions, thyme and vinegar into a saucepan and cook gently for 20 minutes, stirring frequently.
Slice the tofu to make 3 or 4 large, thin sheets. Use a pastry cutter to cut out decorative shapes such as stars, blot these with kitchen paper and, if you like, spray with edible gold spray or edible glitter. Shred the unused tofu and stir it into the cooked beetroot mixture.
Pile the filling into the pastry case, smooth with the back of a spoon, top with tofu decorations and bake for a further 10 minutes until heated through – take care not to let the delicate pastry edges burn. Serve hot or cold.
For the tiny roasties:
Preheat the oven to 180C/350F/Gas Mark 4.
Clean the potatoes but don't peel them. Cut into small pieces (approx. 1.5cm cubes).
Peel the parsnips and cut into similarly sized pieces. Place in a mixing bowl and toss with the oil, rosemary and seasoning. Transfer to a baking dish and roast for 30-35 minutes until golden.
For the sage & onion kale:
Peel the onions and chop roughly. Place in a saucepan with a little rapeseed oil and the sage. Fry gently until soft.
If not using pre-prepared kale, wash the leaves, cut away tough ribs and stems and chop into ribbons. Add the kale to the onion along with 100ml of boiling water. Stir to combine, cover and simmer for 5-7 minutes until kale is tender and water is evaporated. Season with salt and pepper.
For the blackberry sauce:
Rinse the blackberries, put into a small saucepan and cook in a little water until falling apart. Pass through a sieve.
Return the sieved pulp to the pan, stir in remaining ingredients and mix thoroughly, simmer to reduce to a syrupy consistency and serve warm or cold.
 Recipe by The Vegan Society (www.vegansociety.com)