Take advantage of the abundance of delicious, rainbow hued root vegetables available to us in the winter months. Roasting root vegetables gives them a caramelised, comforting sweetness like no other – make yours extra special with a superfruit, baobalicious orange and maple glaze! What better way to get your five a day.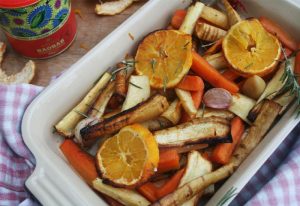 Recipe from www.aduna.com
INGREDIENTS:
Serves 6 (side dish)
Glaze:
2 tsp
Aduna Baobab Superfruit Powder
2 tbsp pure maple syrup
2 tbsp walnut oil (or oil of choice)
1/4 tsp nutmeg
Juice and zest of 1 orange
Vegetables:
2 large parsnips
3 carrots
A few slices of orange
3 garlic cloves (skin-on)
Sprig of rosemary
Salt & pepper to taste
METHOD
Preheat the oven to 190C. Wash and scrub the carrots and parsnips and chop into equal sized chunks. Place the prepared veg, orange slices and garlic cloves in a roasting dish.
Prepare the glaze:
Zest and juice the orange and add, together with all the other ingredients, to a jug. Whisk to combine. Pour the glaze over the vegetables, making sure all of them are coated. Season to taste with salt and pepper.
Place the roasting dish in the oven for 45 minutes or until the vegetables are soft but crisp at the edges. When there is 10 minutes cooking time remaining, add the sprig of rosemary to the roasting dish. Remove from the oven and scatter the rosemary leaves over the veg before serving.
Aduna is an Africa-inspired health food brand and social business. Their mission is to bring consumers the natural vitality of Africa's ancient ingredients, while creating sustainable livelihoods for small-scale producers. Check out their website www.aduna.com to discover more delicious and nutritious health foods made from Africa's most exceptional, natural ingredients.