This warming red lentil, spinach & baobab curry is quick to make and super-healthy–perfect for a mid-week dinner. Although  baobab is mostly used in smoothies, breakfasts and sweet treats, it works wonderfully in savoury dishes as well. The added baobab powder in this recipe gives a delicious zingy flavour–and countless health benefits too!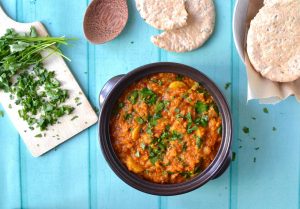 Recipe from: www.aduna.com
Ingredients:
2 tbsp Aduna Baobab Powder
1 can (400g) chopped tomatoes
1 cup red lentils
3 cloves of garlic, minced
250g/8oz new potatoes, halved OR quartered if large
Couple of large handfuls of spinach
1 small onion, diced
1 red chilli, deseeded & minced
2″ ginger, peeled & minced
1 tbsp curry powder (use your favourite blend)
1 tsp salt
3 cups water
1 tbsp coconut oil
To serve (optional):
yoghurt (non-dairy if desired)
fresh coriander, chopped
wholegrain flatbread
Method:
Heat the oil in a large pan over medium heat. Add in the diced onion and cook for 6-8 minutes,stirring occasionally.
Add the garlic, chilli and ginger and cook for another couple of minutes. Add the curry powder, salt and red lentils and stir to coat well.
Add the tomatoes, water and new potatoes and bring to a boil. Reduce heat, cover the pan and simmer for approx. 30 minutes, stirring occasionally. When cooked, the potatoes should be fork tender.
Remove from the heat and stir in the baobab powder and the spinach. The residual heat will wilt the leaves.
Serve with a sprinkle of fresh coriander, a dollop of yoghurt & flatbread on the side.
Aduna is an Africa-inspired health food brand and social business. Their mission is to bring consumers the natural vitality of Africa's ancient ingredients, while creating sustainable livelihoods for small-scale producers. Check out their website www.aduna.com to discover delicious and nutritious health foods made from Africa's most exceptional, natural ingredients.