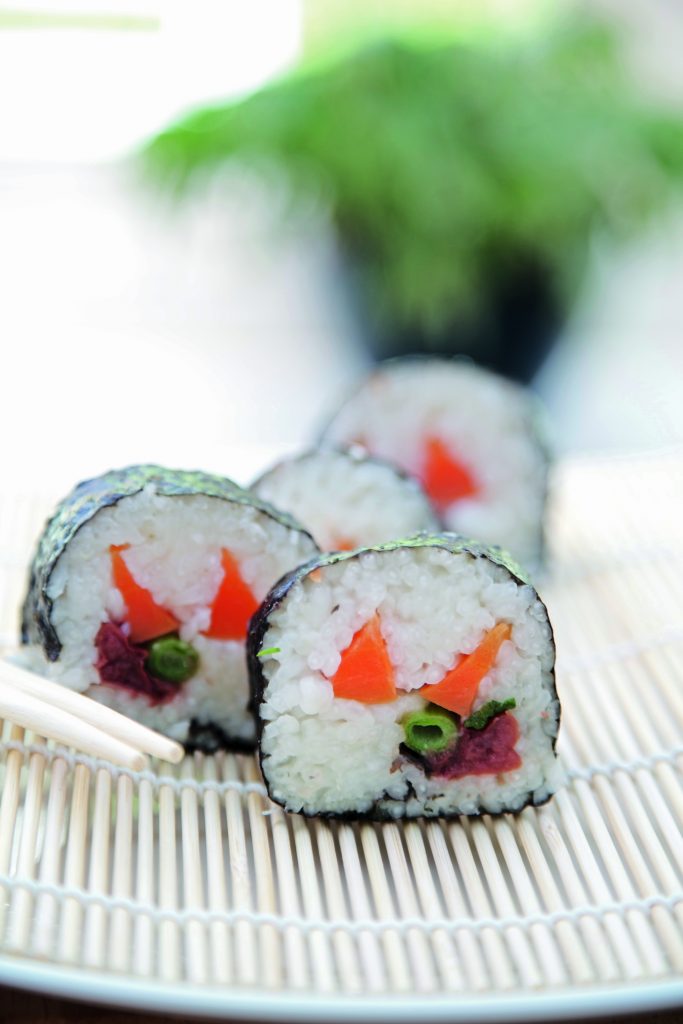 Ingredients:
160 g short grain brown rice
400 ml water
1 tbsp rice vinegar
2 sheets sushi nori
1 carrot cut into sticks & steamed
1 small red pepper cut into sticks
½ avocado peeled, destoned & cut into long slices
8 slices pickled ginger
1 tbsp tahini
1 tbsp umeboshi paste
½ tsp wasabi
½ lemon juiced
½ tsp sesame seeds

To serve
30 ml tamari
Method:
Place the rice and water in a pan with a well-fitting lid. Bring to the boil, cover and simmer for 35 minutes. It should absorb all the liquid; if it dries out add a bit more water. The rice should be soft and slightly sticky.
Let it cool.
Place a sheet of nori on a sushi mat. Mix the cooked rice with the rice vinegar. Spread half the rice on the nori, leaving a clear 1 cm border on the edge furthest from you.
Arrange half the vegetables, ginger slices and avocado along the centre of the sushi, parallel to the border.
Mix together the tahini, lemon juice, umeboshi paste and wasabi. Spoon half of the mix evenly over the vegetables.
Dry roast the sesame seeds in a pan and sprinkle half over the rice.
Picking up the bottom edge of the sushi mat, roll up towards the filling. Keep the vegetables in the middle, and press firmly onto the nori. Wet the last edge of nori and seal the roll, squeezing to get it tight.
Repeat with the second sheet. Chill for at least one hour. Cut into slices and serve with a little tamari.
This delicious recipe is from Keith Squire's new book 'Cooking With Love' which you can buy here!